Last week Phoenix Fashion Week's Emerging Designer class of 2017 gathered at True Religion Brand Jeans Co-founder Kym Gold's house in California for a #DesignerBootcamp lesson to remember.
Each year the Phoenix Fashion Week team travels to over 10 cities (New York, Los Angeles, NYC, Chicago, San Francisco, Las Vegas, Seattle, St. Louis, Dallas, Tucson, and Phoenix) in search of the best emerging designers to apply for a 3-month emerging designer bootcamp.
During the bootcamp, designers go through workshops, challenges, events and perks (like this one) to strengthen their business skills and grow their brands.
On Thursday July 6th, 2017, Program mentor Kym Gold talked to designers about how she built her brand (True Religion Brand Jeans) from zero to over $100 Million, the ins and outs of the fashion industry and why "The Business of Fashion" is so valuable for success.
Designers who were not able to attend in person enjoyed the lesson via Zoom moderated by Phoenix Fashion Week's Executive Director Brian Hill.
Things got even better after class was over!…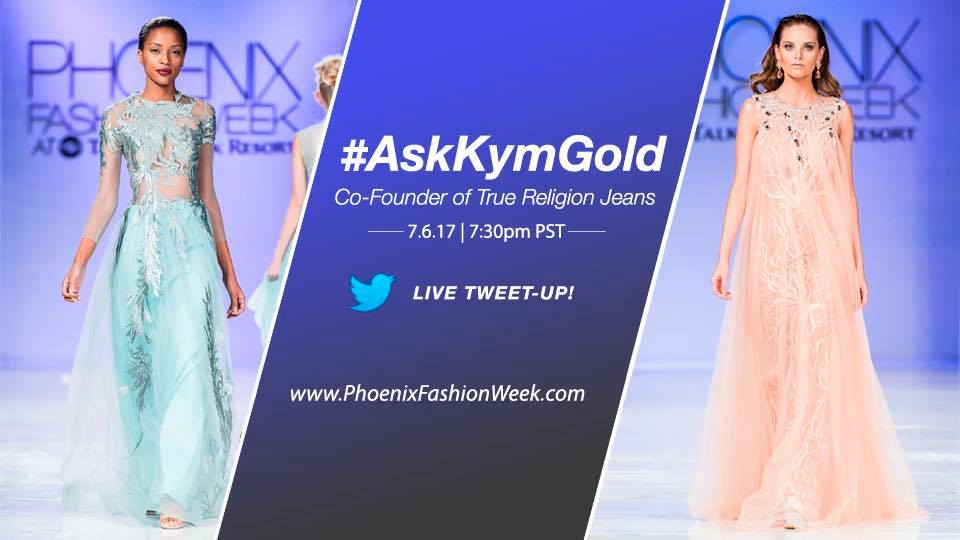 Phoenix Fashion Week (PHXFW) hosted an #AskKymGold LIVE Tweet-UP after class where designers and fashionistas globally got to ask Gold for advice and wisdom.
The Tweet-UP took place on PHXFW's Twitter account @PHXFahionWeek using the hashtag #AskKymGold.
Fans were encouraged to participate in real time and/or send their questions in advance to the PHXFW team (I received some questions for her via email! It was very exciting!).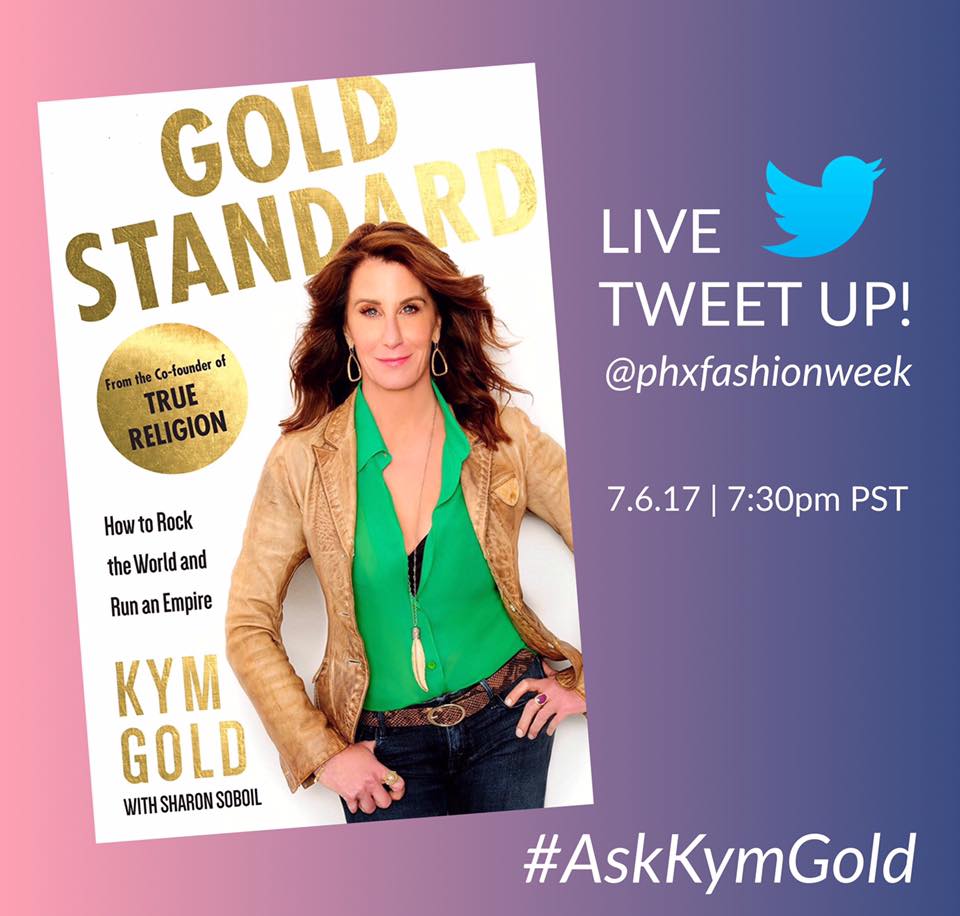 Here are the Top 10 tweets of the night: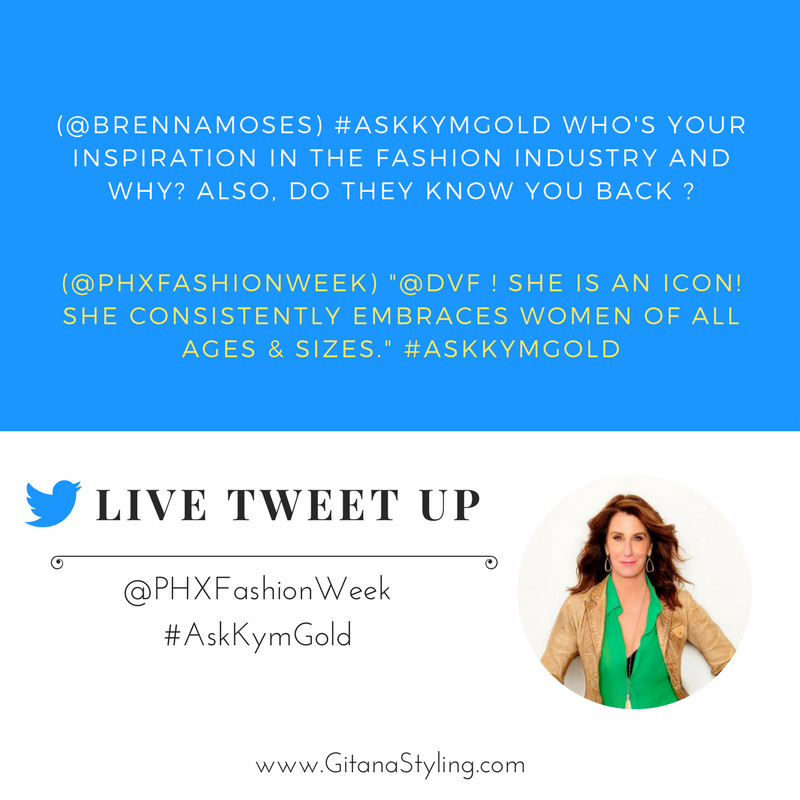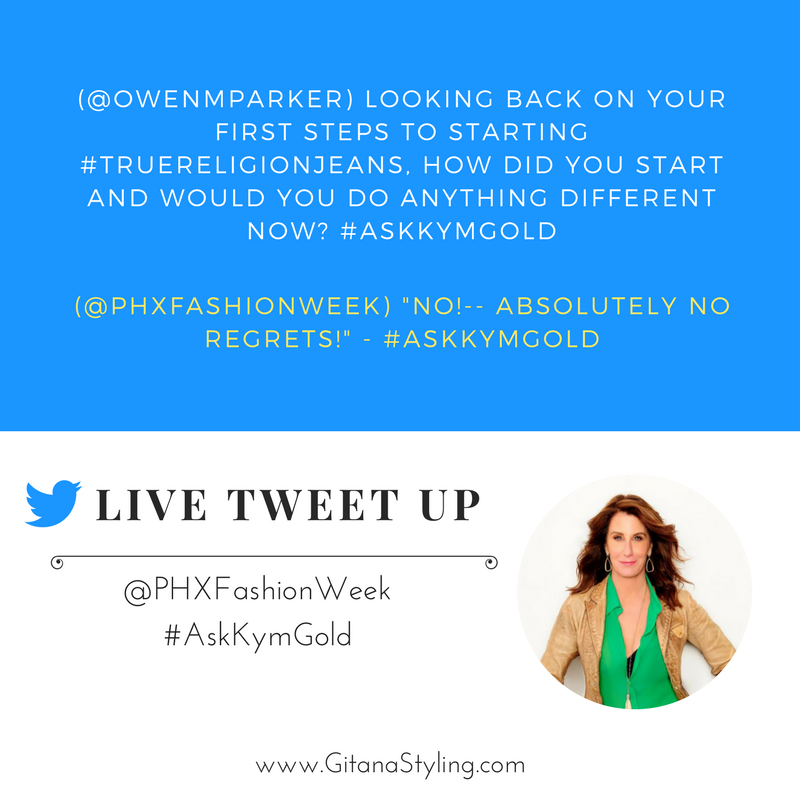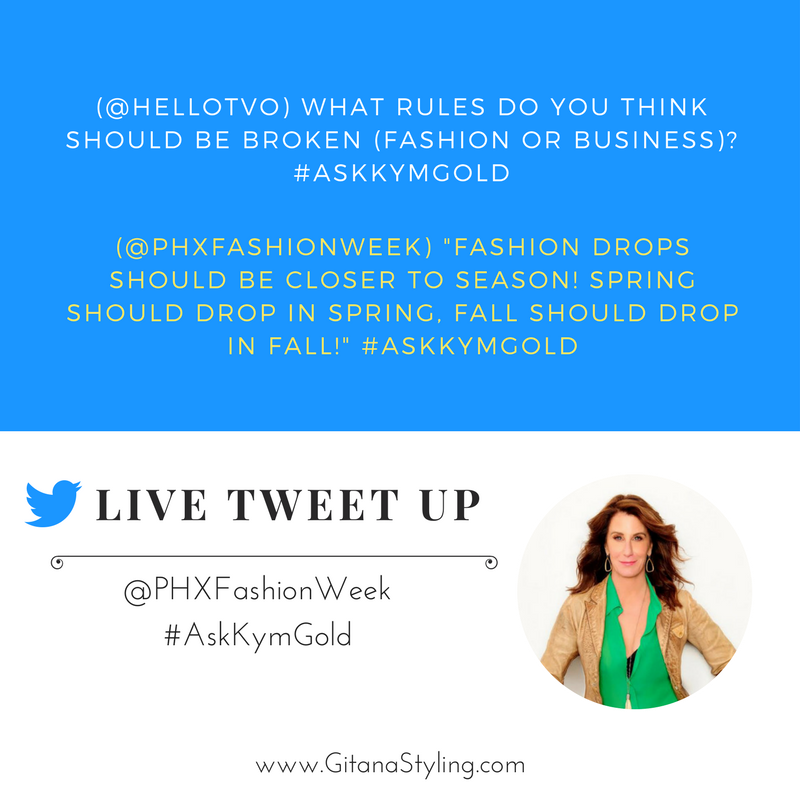 Live Q&A with #TrueReligion Brand Jeans Co-founder Kym Gold Click To Tweet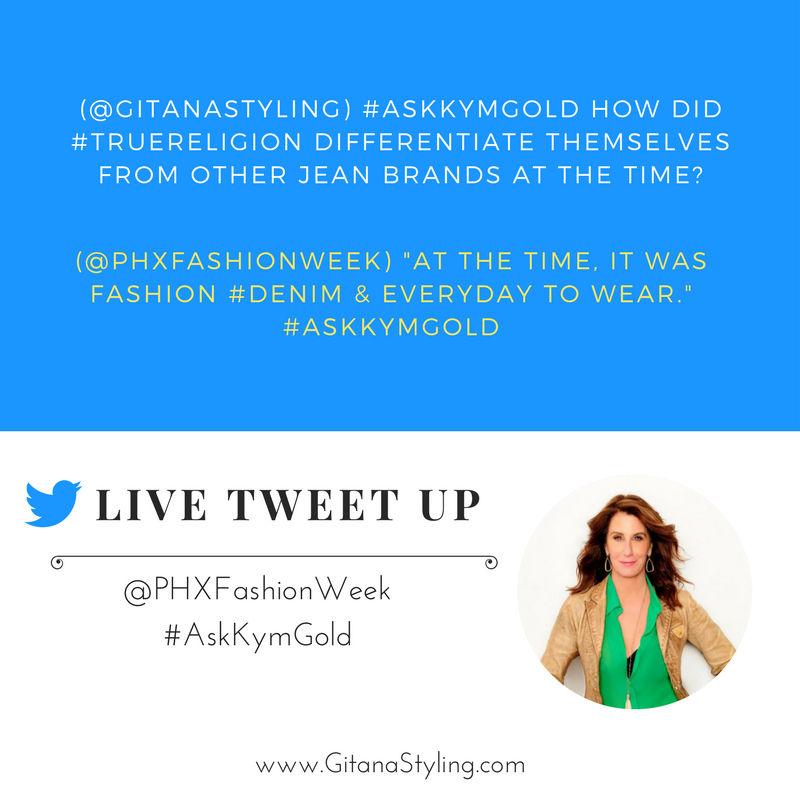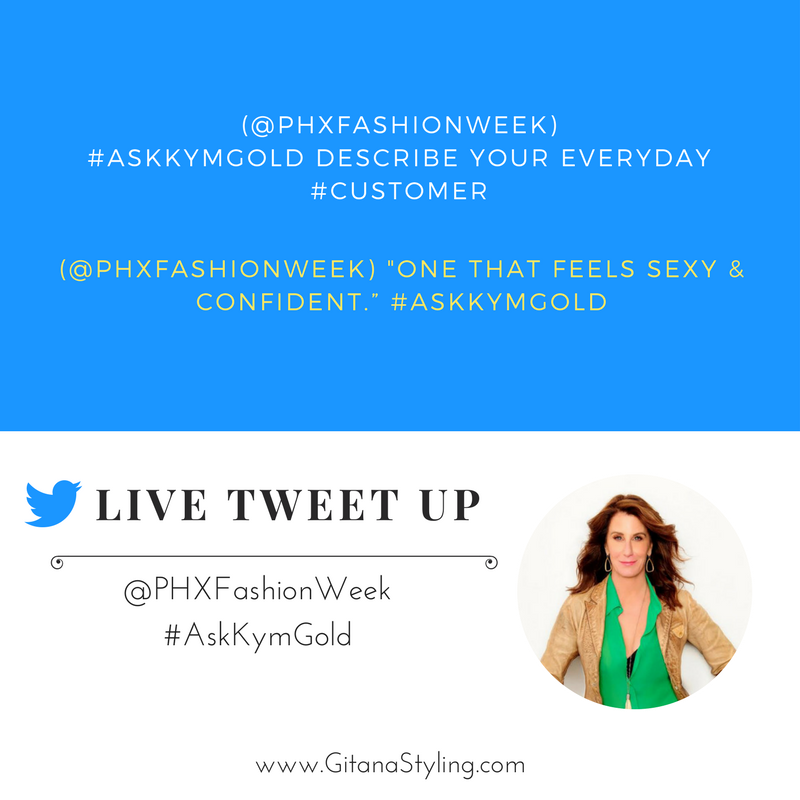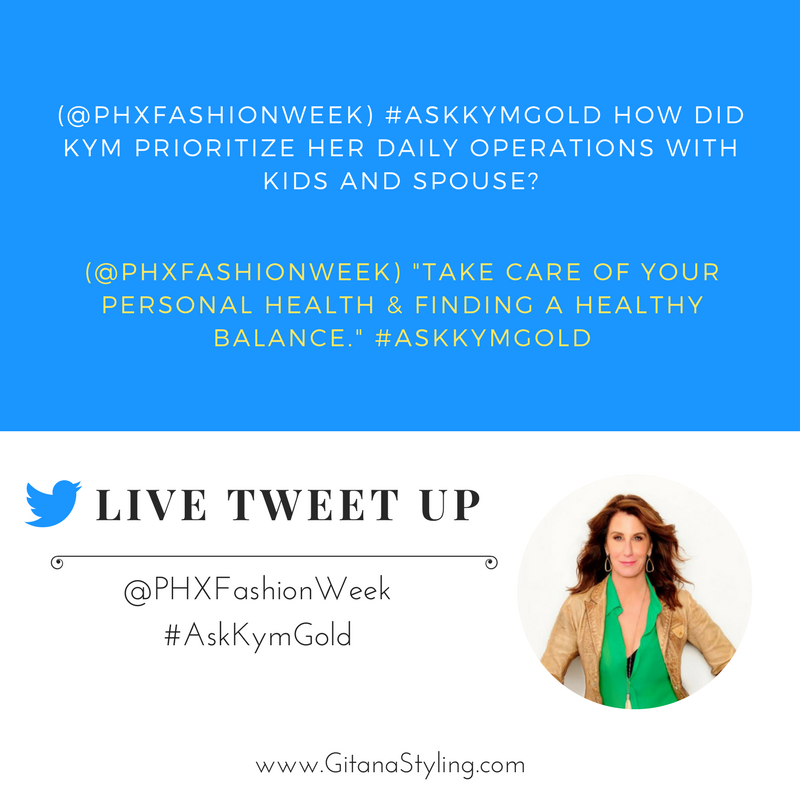 (Share your favorite tweet on social media!)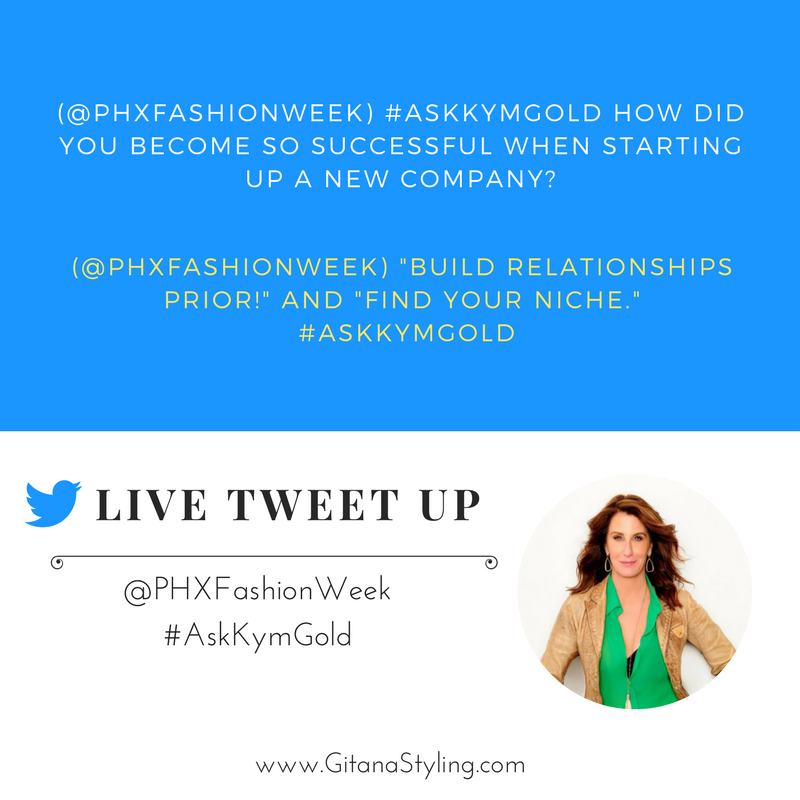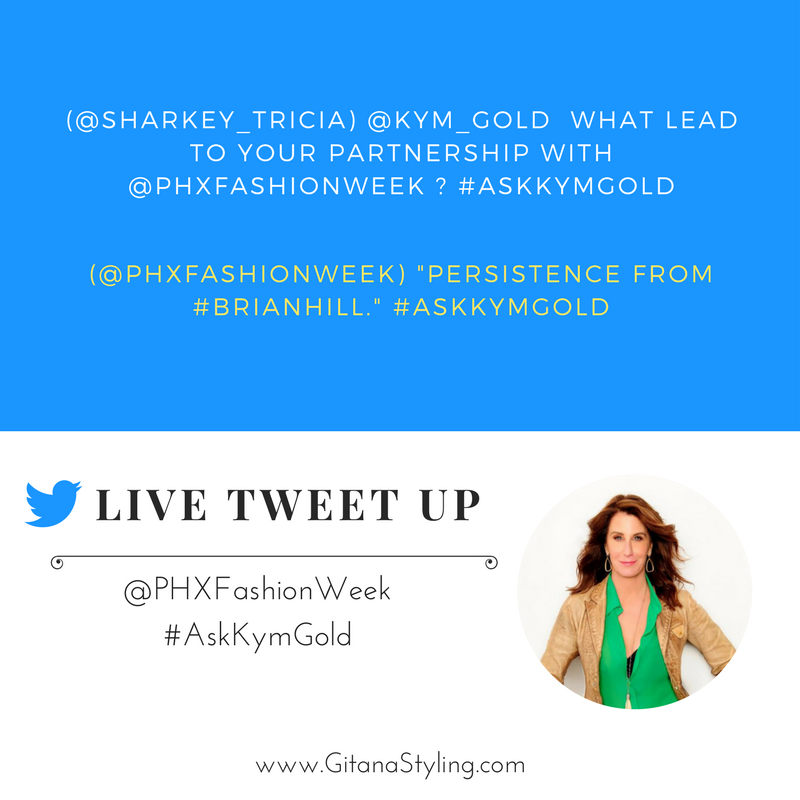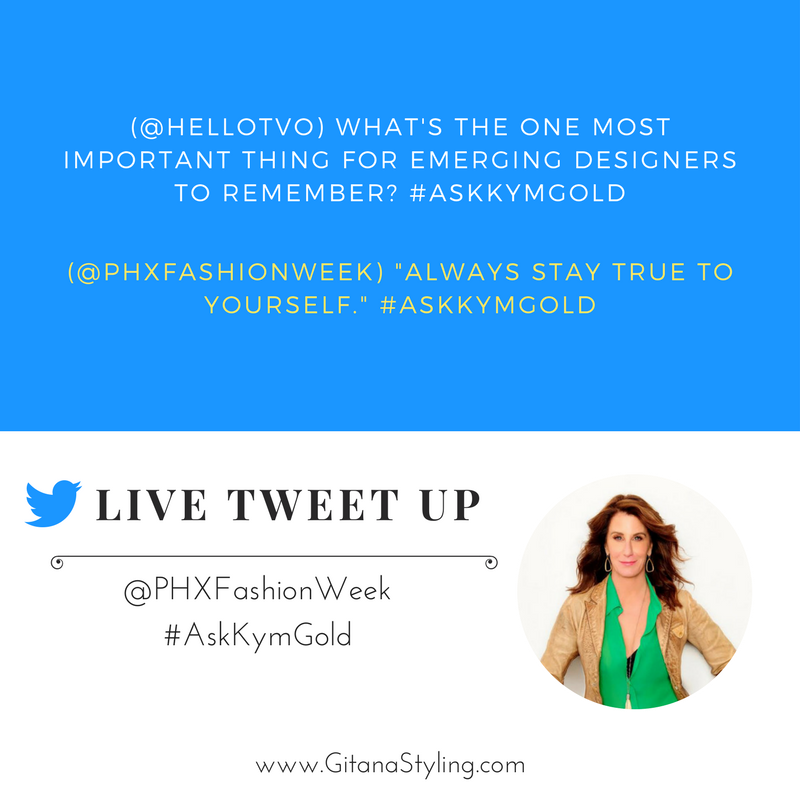 Needless to say, designers enjoyed their lesson and got some invaluable advice from the Fashion Guru!
To keep up with Emerging Designer's work and progress throughout the competition, follow them here: ACONAV, Christine Adar, Cliff D. Creations, EnnYe Collection, Liv Rio Sportswear, Marie-Margot Bridal Couture, Moon Arrow, Nahuala, Nouvelle Resort, Odd Bird Designs, Qmulative, ShaLaJa′ Swimwear, Taússy, Theo Doro, #WVSH, ENJI Studio Jewelry, GFash, Multi-Colored-Animal and Tagliente.
Phoenix Fashion Week is the leading fashion industry event in the Southwest. The organization's mission is to bridge the gap between national and international designers and premier retailers and top fashion media. Phoenix Fashion Week's ultimate goal is to garner global exposure for Arizona's fashion industry. Through educational fashion seminars, year-round fashion events, and charitable partnerships, Phoenix Fashion Week is gaining rapid acclaim for its community-service efforts and for infusing world-class innovation into the Southwest. For more information, visit: www.phoenixfashionweek.com
To stay up-to-date with us and fashion news, events and more, subscribe to our weekly Style Newsletter HERE.
Comments
comments