This past Saturday, July 29th Arizona fashion designers got together under the roof of the newly renovated Fabric building in Tempe, AZ, for the Brave Wings Fashion Show 2017.
Founders Jenesis LaForcarde and Mabel Cortez each have their own clothing line and decided to join forces to create a fashion show that not only unites the fashion community in the valley but that makes a difference through fashion by selecting a local non-profit organization.
This year – which happens to be the 5th year – the Brave Wings Fashion Show benefited the Arizona Apparel Foundation (AAF) a nonprofit organization dedicated to helping fashion design brands navigate obstacles to success by providing the resources they need to start, grow, and thrive.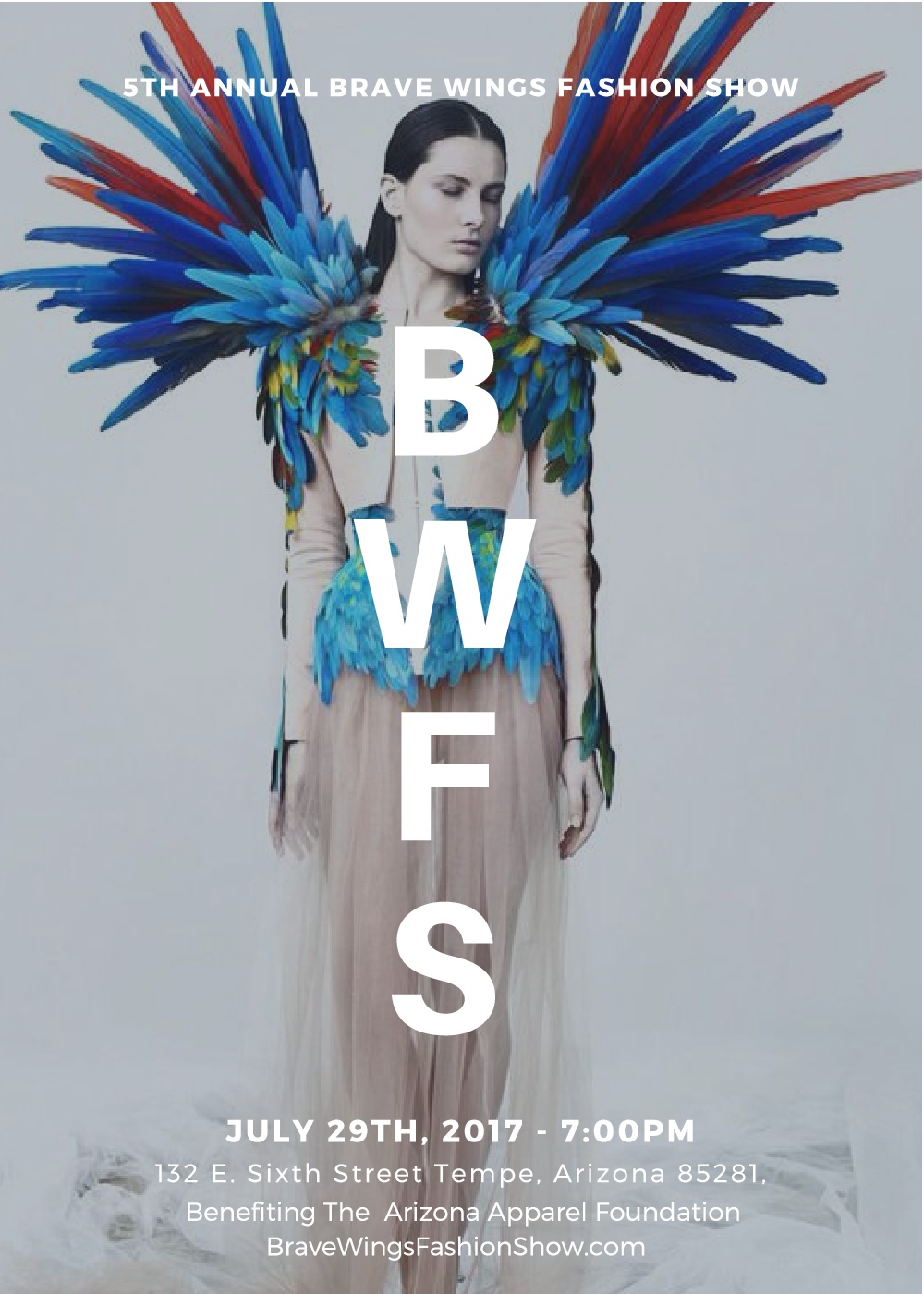 Founder Mabel Cortez shares what's new with the show this year!
"Brave Wings has incorporated new elements to the show. One of them is Rise Designers. I'm co-founder of The Fabric Studio, which we sponsored all the fabrics for the designers for this show, I'm excited to see what they transform these fabrics into!" said Mabel.
Before the fashion show people mingled and shopped from a variety of vendors including Divaz Boutique, Northern Clover, Monica Mauro Jewelry and more. 
While the silent auction took place, Sam Hamati graced the audience with her Seven Deadly Sins' designs on the runway.
Woman's Touch Apparel by Jenesis LaForcarde opened the show. Her collection was bold, fierce and shared strong feminist messages. I loved the CEO outfit!
Tiger Lily Dress Shop followed with a festival theme collection. Designer Ellen Dayan gave life to multiple characters and brought a fun and whimsical vibe to the stage.
"Tonight you are going to see a line of clothing that is actually my very first collection and my debut fashion show. You are going to see designs inspired by performers at carnivals, festivals, little state fairs and music festivals. My clothing is for young women and women who are young at heart. It's for women who really want to move their bodies, dance and express themselves through fashion. Women who are confident and curly," said Ellen.
This was one of my favorite collections of the night. I worked with Ellen through her creative process. Not only is she a wonderful woman, but she is extremely talented. There might be a little conflict of interest here, but take a look at the pictures and judge for yourself!
The next show was Jealous Vixen, another strong female empowerment collection.
The show got really hot when Yandy showed their collection. Bathing suits, lingerie and intimates on the runway wowed the crowd.
Mabella Chic by Mabel Cortez showed her new denim collection. This was another one of my favorites. Unique casual pieces for moms on the go. I loved them all!
"My brand has evolved to 'The IT Mom' and I'm showing all denim tonight, which is pretty exciting. I want to show how moms can twist denim into something stylish and cool and see what the response is!," said Mabel.
At intermission, singers Malcolm Santelli and Venture entertained the crowd with their music.
I had the pleasure to interview venture backstage!
"My music is definitely different. I wouldn't say it's pop or indie. It's something in between. If you like Lana del Rey or Travis Scott, you'll probably like my style!" said Venture.
Venture sang her unreleased song and video called Shadows. She stepped on the runway wearing beautiful black wings.
Then the Rise Designers stepped in to show the audience 1 look. Their looks were made with fabrics sponsored by The Fabric Studio.
[The Fabric Studio sells a variety of fabrics including cotton, linens, silk, wool, merino jerseys, blends, synthetics, prints, knits, woven, lycra and much more. They also have sewing tools and trims such as rulers, scissors, needles, buttons, elastic, lace, serger thread and much more. They also offer fabric consulting services to help you find the perfect fabric and trim for your collection. This store is located inside the Fabric building!].
The winner of the Rise Designer Competition was Charm & Royalty.
"My brand is for women who want to look elegant and sophisticated, but don't want to wear something uncomfortable. You can buy a piece from me and style it yourself. My capes, you can wear them over a jumpsuit, with a crop-top underneath, over a dress. It is versatile," Said Harpreet.
"I've been doing competition bikinis until now, but my real passion is girly and feminine fashion. My gown is very much me. I put much of myself in it. It's girly, feminine, pink, a lot of bling, feathers, which follow me everywhere!" said Gail Friend from Gail Friend Designs. 
Divaz Boutique was next. A cute, feminine and flowy collection with basics, florals and stripes in pastels, blues and white. Another one of my favorites!
The next show was by All Things Vinae. Dominique ViNae is a rising Urban-Couture Fashion Designer out of Phoenix, AZ. Her brand represents women of all walks of life, embodying beauty through fabric.
The men closed the show with Personal Custom Suits. I had the pleasure of talking to the designer before the show. He wanted to share this message with our readers:
"Stay focused and only do what you love," said Derrick Robinson.
Derrick was wearing his brand top to bottom. In his own words "Tonight I'm wearing Italian linen, double breasted, gabardine trousers and orange suede shoes."
You can find Persona Custom Suits on Instagram @personacustomclothiers and online at personacustomclothiers.com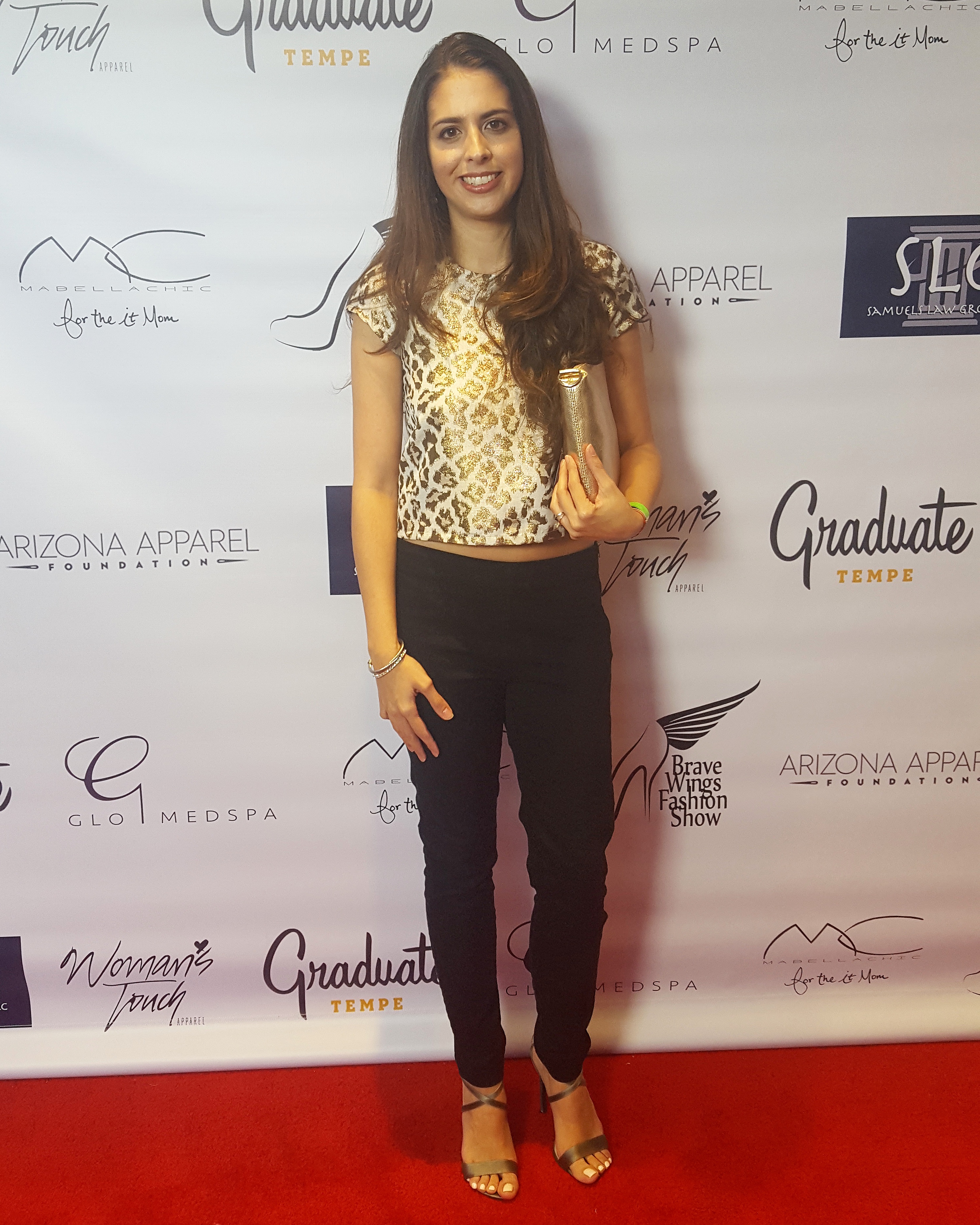 It was a fun night! I got to share with my fellow bloggers and stylists, met amazing + talented designers and enjoyed seeing the crowd having a good time.
Thank you Jenesis, Mabel and Fabric!
If you want to stay up-to-date with fashion news, styling tips and more, subscribe to our newsletter here.
Comments
comments